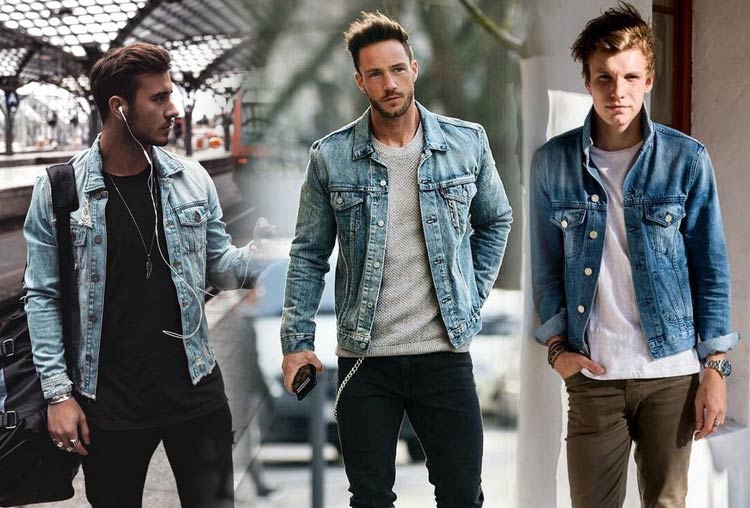 The denim jacket, as we know it today, appeared at the end of the 19th century as a work garment.
Initially created for American farm workers, it became popular in the mid-1950s when music and film celebrities used it as a synonym for rebellion.
She, in the trucker which is also called trucker jacket in denim fabric This is the model that has two chest pockets (pockets with V-shaped details), two stripes that run down from the pockets to the hem, a metal button closure, a discreet adjustment at the back of the hem and is a little short compared to other jacket models, i.e. it is also a little short compared to t-shirts and shirts.
Today we have lots of models with cuts, cut-outs, appliqués and washes, but these are not the most common models or even the models that we say are timeless in fashion, in other words, the models that have been worn there for over 100 years and have become popular are these truckers. As well as being a super versatile model, it allows for many combinations and we're going to give you tips on how to combine this timeless model with other pieces.
With chino pants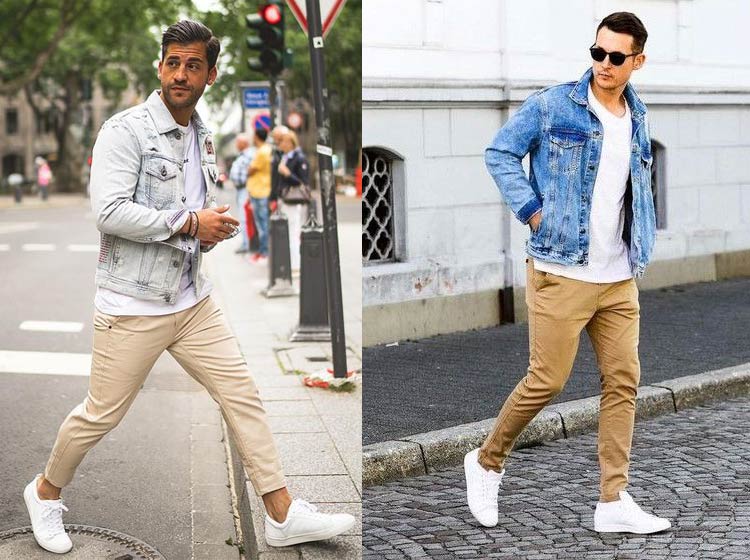 Chino pants are a great versatile piece to wear with a denim jacket because if you already have denim on the top, it's a bit impractical to wear the same fabric on the bottom. It's much more stylish and daring. Change is necessary.
The chino pants, which can be found in various colors, are made of cotton and due to their structure, make the look more elegant. Our tip is to wear them with khaki chinos, as they are a complementary color in the chromatic circle of blue (jeans).
With a white T-shirt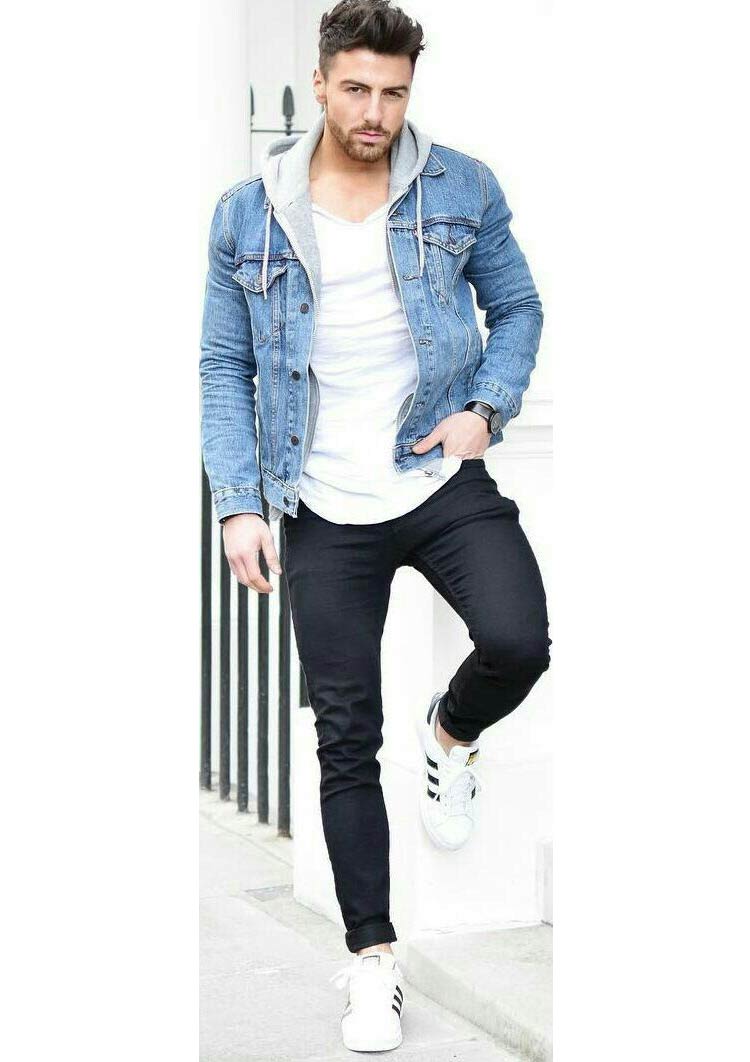 It's so simple to wear a white shirt with everything. It's basic. It's beans and rice. Obviously, a denim jacket looks good with any shirt, in any color, print or pattern. Because it's a versatile garment in itself.
But the look with a white T-shirt is simple, uncomplicated and easy to wear. Just pay attention to the T-shirt you choose. Not too baggy. Not too tight. Not too long or narrow. Not even transparent. The classic model, in your size, is best.
With jogger pants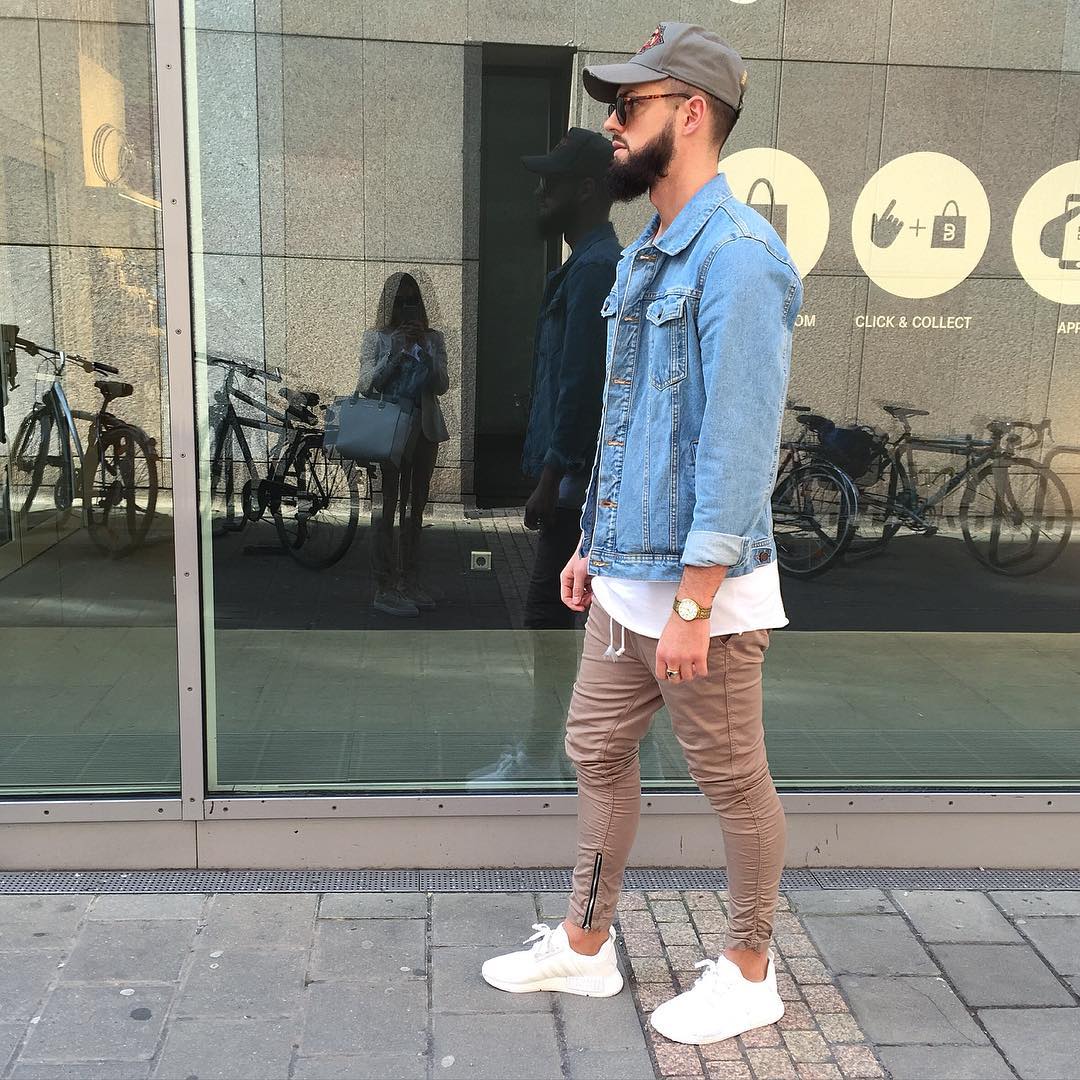 Jogger pants are a sportier piece, right? Whether it's to take away that team jacket look or to give it a modern street style look, the denim jacket is the ideal piece.
So a jogger with jeans, a t-shirt and a pair of sneakers is sensational, as well as being comfy, stylish and modern.
Com jeans preto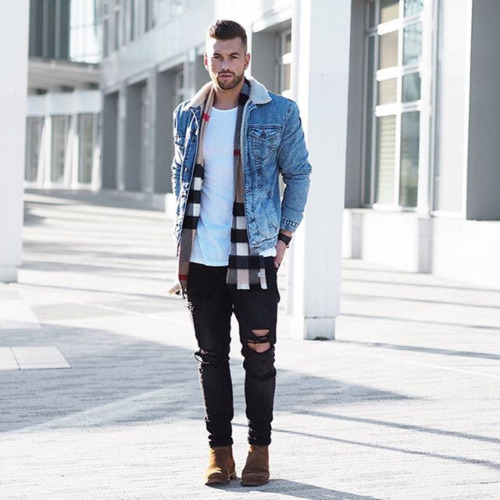 Remember that the type of jeans we're talking about here are traditional, neither too light nor too dark. That's why changing the tone of the jeans here looks great, especially with black, which goes with everything.
You can do it with other colors, yes. Gray and white, for example, which are easy to combine. But you're less likely to go wrong with black, right?
With indigo pants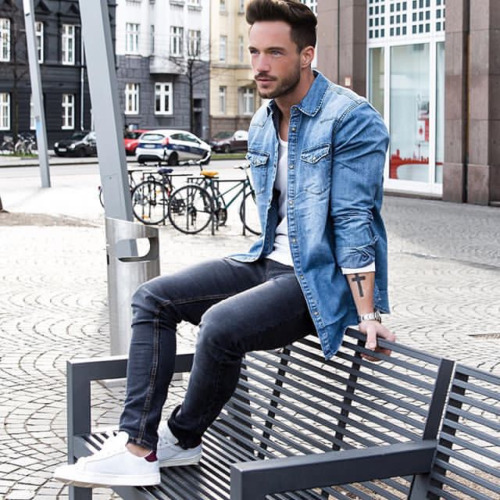 Indigo denim is very dark denim (my favorite, by the way) and since the jacket is in traditional denim (theoretically lighter than the pants), we'll have a nice contrast there.
And that's what's cool. Using denim in its various shades to give it that distinctive effect.
With a shirt and tie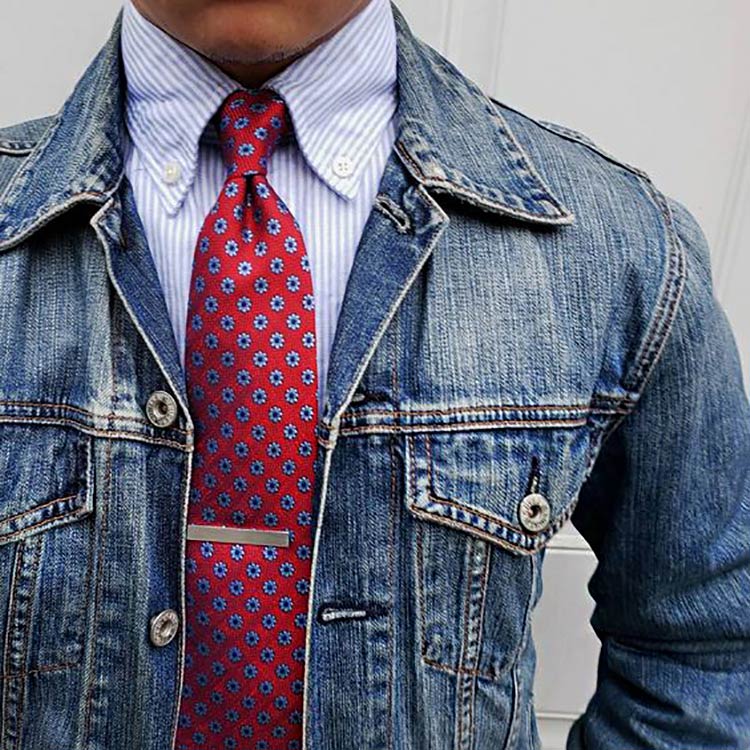 Here I see style, huh. Mixing a totally sporty outfit with workwear and/or tailoring can give it an unparalleled style. On very cold days, layering a knit over a shirt and under a jacket can be even more stylish. On your feet, Oxfords or boots.
With hooded sweatshirt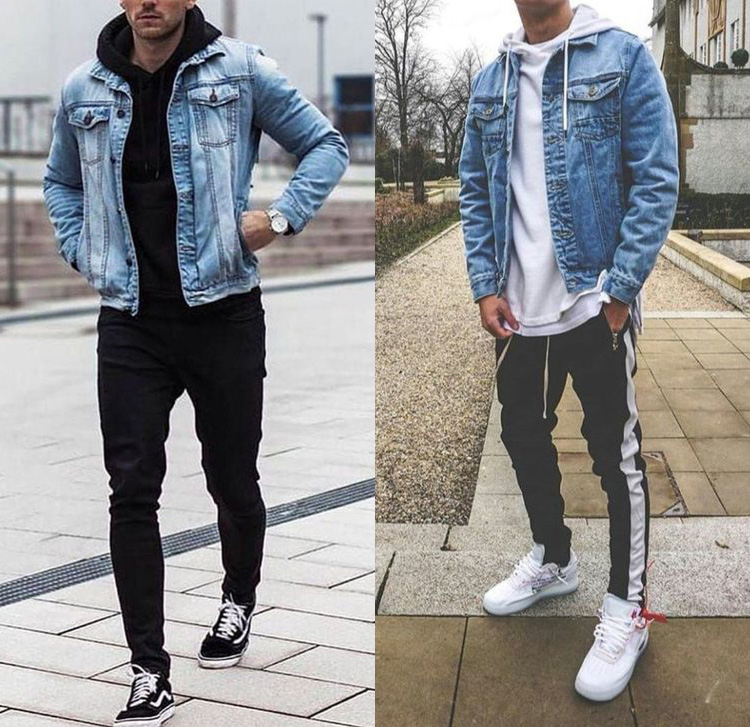 We know very well that the denim jacket is sometimes just an ornament. So we often need intermediate pieces. And that's where the sweatshirt comes in, and even better if it has a hood. Because as well as forming this sandwich, it also adds style to the look when the hood is out. However, pay attention to the color of the sweatshirt and also the size of the hoodie, so that it doesn't look out of proportion.
With tailored pants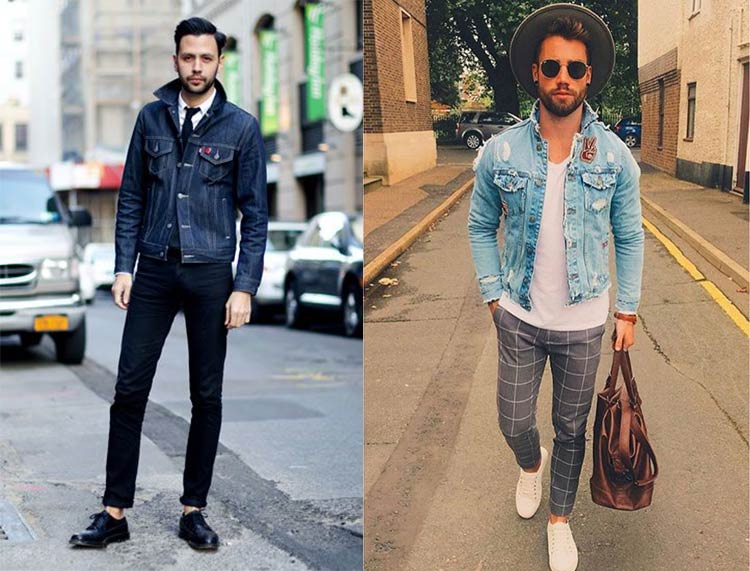 Few dare and have the style for it. But it's cool and modern to mix classic pieces with sporty ones. Removing the serious and formal look of tailored pants is something that the denim jacket does very well, making it a great combination.
With a turtleneck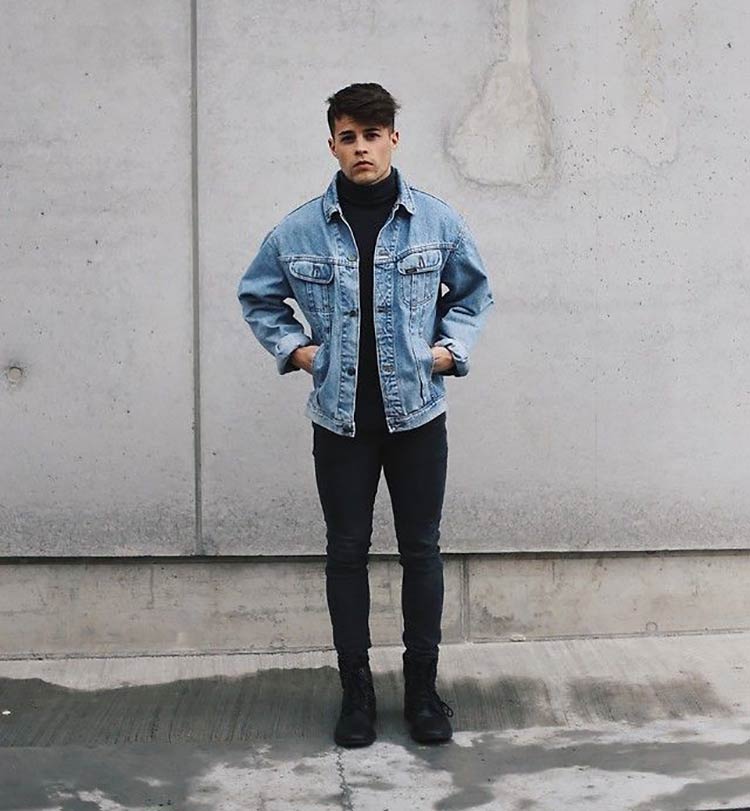 The turtleneck is for those who love style and know a lot about fashion. It makes you look super stylish with a simple knit over a denim jacket. How cool is that?
The same color as the pants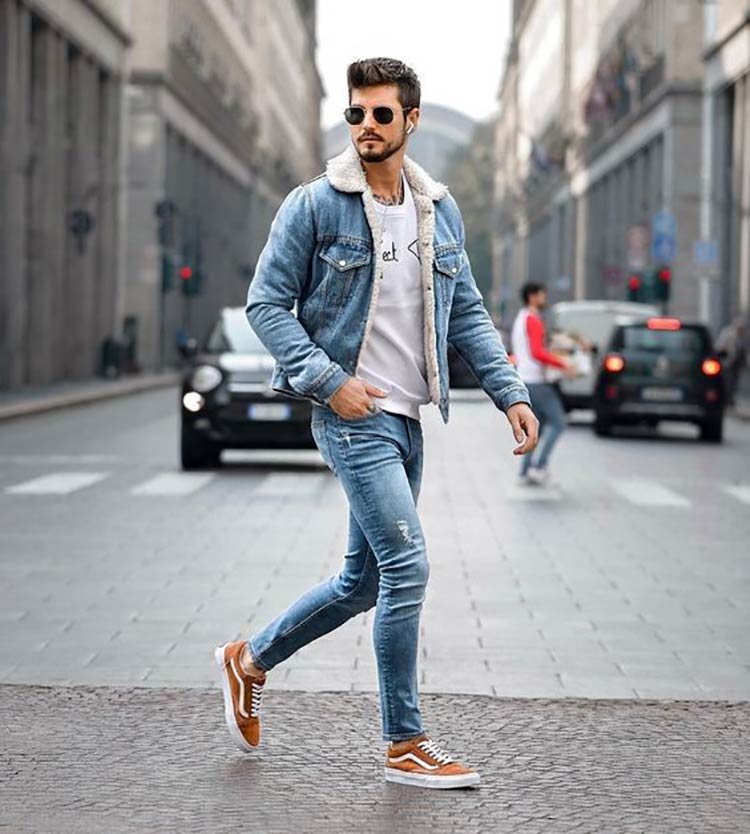 It's also a good combination to use in your outfits. The only difficulty is finding pants in the same color (and wash) as the jacket. But if you can, it's a good combination. Then you can play around with the t-shirt or shirt and the shoes you choose.
There's no excuse not to have and wear this super wildcard piece from the men's closet. We've given you 10 reasons to wear and abuse it without fear.